Product Video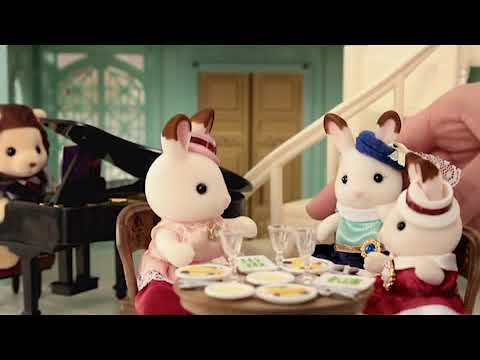 Product Details
This value pack includes: "Sylvanian Families Chocolate Rabbit Family", "Sylvanian Families Creamy Gelato Shop" & "Sylvanian Families Delicious Restaurant".

Sylvanian Families Chocolate Rabbit Family

Meet the Chocolate Rabbit Family pack includes: Mother Teri Chocolate Father Frasier Chocolate Brother Coco Chocolate & Sister Freya Chocolate.

FATHER Frasier Chocolate has been making sweets since he was a young boy and hes now a confectioner of the highest calibre. It all started when his mother showed him how to make crystallised fruit which is very easy but his chocolate creations today are a work of art as well as tasting heavenly.

MOTHER Teri Chocolate makes all the fillings for Fraziers chocolate creations; the strawberry surprise being the best. Her kitchen is always full of the rich smell of fruit mixed with the sweet smells of sugar and spices bubbling in pots. It makes your mouth water just thinking about it!

BROTHER Coco Chocolate is not permitted to help his father or mother in the preparation of their confectionery concoctions because he eats more than he makes! Hes put to useful employment being the delivery boy for the family..

SISTER Freya Chocolate unlike her brother doesnt eat sweets or chocolate so she helps her mother prepare the fillings. She does eat a lot of fruit though!

WARNING: CHOKING HAZARD - Small parts. Not for children under 3 years.

Age: 3 years & up
Item Size: adult figure approx.9.5 cm tall/ kid figure approx. 7.5 cm tall

Sylvanian Families Creamy Gelato Shop

The Creamy Gelato Shop serves sweet and delicious gelatos in town. The set includes a lovely sky blue shop building, counter, table, and colourful gelatos. You can put the gelatos in cones. The shop building is neatly designed with gorgeous engravings. You can enlarge your shop space by using the ceiling board and the aisle board. The Maple Cat mother is the shopkeeper (sold separately). You can turn the tram into a gelato shop by putting the awnings and the fence of the Creamy Gelato Shop on the Ride Along Tram (sold separately).

Combine with other buildings in the Town series, such as the Grand Department Store, Delicious Restaurant, and Designer Studio to create your own townscape. You can also customise your building by replacing the fences and awnings included with the building (all sold separately).

Set includes: Gelato shop building, aisle board, ceiling board, lamp x2, fence, awnings x2, gelato counter, gelato tray, display window, scoop, gelato (L) x4, gelato (S) x4, flavour plate x4, table, cone x2, gelato stand (total 28 pieces).

* Figures not included.

WARNING: CHOKING HAZARD - Small parts. Not for children under 3 years.

Age: 3 years & up

Sylvanian Families Delicious Restaurant

The Delicious Restaurant serves the finest food in town. Set the fences, aisle, staircase, and awnings as you like, to make your very own restaurant. The set includes everything you need for a restaurant: kitchen unit, kitchenware, table and chairs, wagon, tableware, and even a chef's outfit. The gorgeous three-layered cake is perfect for parties.

You can create your own townscape by combining this product with other buildings in the Town series, such as the Grand Department Store, Designer Studio, and Creamy Gelato Shop. You can also customise your building by replacing the windows, fences, and awnings included with the building (all sold separately).

Set includes: Restaurant building, spiral staircase, aisle board, ceiling board, wall rack A, wall rack B, fence A x2, fence B, menu display stand, table, chairs x2, awning (S) x3, awning (L), kitchen stove, wagon, cake, decorated plate, frying pan, saucepan, spatula, ladle, cake stand, glass x 2, water glass x2, decanter, appetiser x2, soup x2, main dish x2, knife x2, fork (S) x2, fork (L) x2, soup spoon x2, spoon x2, saucer x2, cup x2, chef hat, chef shirt, chef pants (total 54 pieces).

* Figures not included.

WARNING: CHOKING HAZARD - Small parts. Not for children under 3 years.

Age: 3 years & up
Additional Information
| | |
| --- | --- |
| SKU | SF4150-6008-6018-BD |
| UPC/EAN/ISBN | No |
| Country of Manufacture | |
| Brand | Sylvanian Families |
| Usually Dispatched In | 3-5 business days |
| Gender | Girl |
| Age | 3- 5 Years |
| Character | No |
| Material | No |
| Package Height (cm) | 0.0000 |
| Package Length (cm) | 0.0000 |
| Package Width (cm) | 0.0000 |
| Previous Price | No |
| Previous Price Date | No |
What Do Our Customers Say About Us?
One of best customer service
Just would like to share how the staff at yogee.com.au has impressed me with their outstanding level of service. Quick response, excellent communication and and service quality are second to none.
My item was delivered the next day after I ordered, but unfortunately I had to return it due to some issue, at which yogee was not at fault.
Return was easy and I also got the refund the day after.
Thank you very much!
By William from
I love yo gee toys
Thank you thank you thank you!, I ordered a toy for a birthday present, had to be sent to remote WA I thought it would take for ever to arrive you guys excelled obviously sent it immediately as it arrived in 2 days.

The specials and choices are fantastic I shop with you guys fairly often and have never been disappointed. Best online store ever. Kind regards to all the yogee team
By Elaine from WA